Awards 2013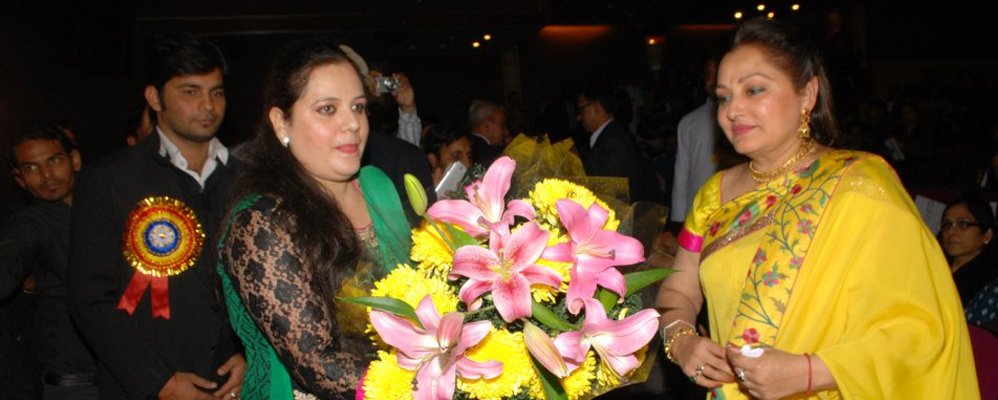 Recipient For The Award "Bharatiya Manav Adhikar Samman
Last Honorable Recipient For The Award "Bharatiya Manav Adhikar Samman" For Peace , Harmony, Protecting & Promoting Human Rights as :
AWARDEE' 2013
3rd Bhartiya Manav Adhikar Samman'2013
10th December'2013
India Islamic Cultural Centre , New Delhi
---
Smt. P. Jaya Prada Nahata , Actor, Ex. Member Of Parliament, Lok Sabha
Dr. Mahesh Joshi – IBS , Addll. Director General Doordarshan – Govt of India.
Dr. (Mrs.) Grace Pinto , Managing Director Ryan International & St Xavier's Group Of Schools
Mr. Suresh Chauhanke , Editor in Chief & CMD - Sudharshan News
Prof. K.K.Aggarwal , Chancellor / Policy Advisor ,K R MANGALAM UNIVERSITY
Dr. N.C. Wadhwa (IAS Retd.) , Vice Chancellor, Manav Rachna International University
Dr. Rajan Chopra , Chancellor , Mahatma Gandhi University – Meghalaya
Sister Jainath - Principal – Convent of Jesus & Mary
Dr. B.B.L Madhukar , FORMER CHAIRMAN - MMTC
Dr. John Dayal - Hon'ble Member National Intergration Council (Govt. Of India)
Mr. Vipin Gaur , General Secretary , News Paper Association Of India
Prof.C M K Reddy , Social Activist & Doctor
Dr. Khwaja Iftikhar Ahmed , Founder President , Inter Faith Harmony Foundation Of India
Dr. Uma , AIIMS
Mr. Bharat Chawla ,Advocate
Dr. Sona Susan Abraham
Ms. Poonam Chaubey ,Principal Greater Valley School
Anish Tahim , Social Activist
Dr. Jasneet Singh ,Social Activist
Dr. Jitendra Singh Kalra ,S.H.O – Sikandrabad – U.P