Lebanon: Syrians Summarily Deported from Airport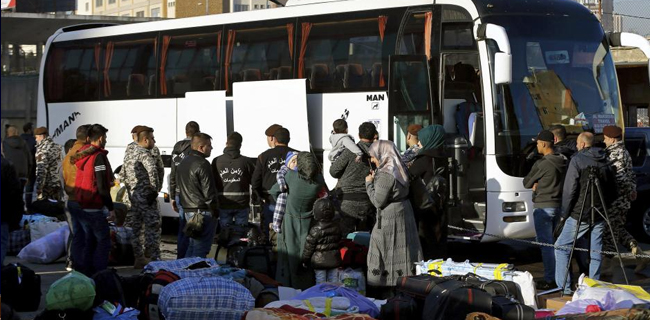 Forced to Sign "Voluntary" Return Forms; Risk of Serious Harm
Lebanon summarily deported at least 16 Syrians, some of them registered refugees, on April 26, 2019 after they arrived at the Beirut airport, Human Rights Watch, the Lebanese Center for Human Rights (CLDH), Legal Agenda, Frontiers Rights, and the Access Center for Human Rights said today.
At least 5 of the 16 had registered with the United Nations refugee agency (UNHCR), and at least 13 expressed their fears of torture or persecution if returned to Syria. Despite this, the Syrians were not given a meaningful chance to seek asylum or challenge their removal, and were forced to sign "voluntary repatriation" forms. Nongovernmental organizations working with refugees in Lebanon estimate that 30 Syrians have been deported from Hariri International Airport in Beirut this year by the General Security Directorate, the agency that oversees the entry and exit of foreigners.
"Lebanese authorities shouldn't deport anyone to Syria without first allowing them a fair opportunity to argue their case for protection and ensuring that they don't face a real risk of persecution, torture, or other serious harm," said Lama Fakih, acting Middle East director at Human Rights Watch. "Despite heated rhetoric calling for Syrians to return home, and coerced 'voluntary' returns, there continues to be significant risk of harm for refugees who do return to Syria."
Lebanese authorities have in the past affirmed their commitment not to forcibly return any Syrian to Syria but, increasingly, officials are calling on Syrians in Lebanon to return home.
As a party to the Convention Against Torture, Lebanon is obligated not to return or extradite anyone if there are substantial grounds for believing the person would be in danger of being subjected to torture. Lebanon is also bound by the customary international law principle of nonrefoulement not to return refugees to places where they would be persecuted or to expose anyone to a real risk of cruel, inhuman, or degrading treatment or threat to their life. Human Rights Watch has for years documented widespread patterns of arbitrary detention, torture, and deaths in Syrian government custody.
One of the people deported, "Khaled" (a pseudonym), told Human Rights Watch he had been living in Lebanon for six years, but left the country on April 21 to seek asylum in Cyprus through Turkey. As he was departing from Beirut airport, General Security officers permanently banned him from re-entering Lebanon for failure to pay a fine of 1,200,000 Lebanese liras (US$790) resulting from failing to renew his legal residency.