Syria: Detention, Harassment in Retaken Areas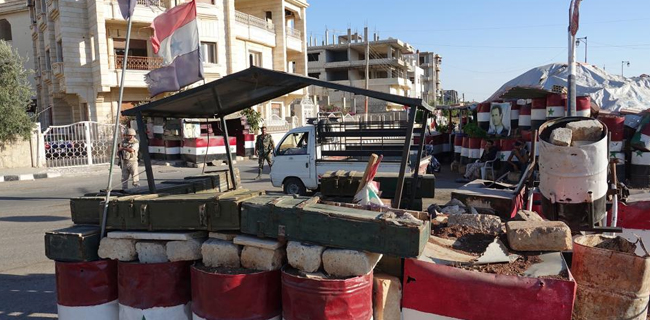 Media, Aid Workers, Activists, and Families Targeted
Syrian intelligence branches are arbitrarily detaining, disappearing, and harassing people in areas retaken from anti-government groups, Human Rights Watch said today. The abuse is taking place even when the government has entered into reconciliation agreements with the people involved. Human Rights Watch has documented 11 cases of arbitrary detention and disappearance in Daraa, Eastern Ghouta, and southern Damascus. The government retook these areas from anti-government groups between February and August 2018. In all cases, the people targeted – former armed and political opposition leaders, media activists, aid workers, defectors, and family members of activists and former anti-government fighters – had signed reconciliation agreements with the government. Local organizations, including Syrians for Truth and Justice and the Office of Daraa Martyrs, have documented at least 500 arrests in these areas since August.
"Active combat has ended in much of Syria, but nothing has changed in the way intelligence branches trample rights of perceived opponents of Assad's rule," said Lama Fakih, acting Middle East director at Human Rights Watch. "Lack of due process, arbitrary arrests, and harassment, even in so-called reconciled areas, speak louder than empty government promises of return, reform, and reconciliation."
Human Rights Watch interviewed 16 former residents of Daraa and Quneitra governorates, Eastern Ghouta, and towns in southern Damascus. They said that Syrian intelligence branches have detained and harassed people related to anti-government activists or former fighters, along with defectors, members of anti-government groups, or activists. Humanitarian workers, community leaders, and media activists who remained in government-held areas were also detained and harassed. People have been arrested in their homes and offices, at checkpoints and in the streets, relatives and witnesses said.
The locations include Da'el, Ibtta', Naua, al-Yadudeh, and Etaman in Daraa governorate; a town in Quneitra governorate whose name is withheld due to concerns about reprisals; Douma in Eastern Ghouta; and Babila in southern Damascus. Residents said, based on checkpoints and personnel conducting raids, that Da'el and Ibtta' are under the control of Air Force Intelligence, while al-Yadudeh and Etaman are under the control of Military Intelligence.
In southern Damascus, the Military Intelligence Patrols Branch arrested people and transferred them to the Palestine Branch, also operating under Military Intelligence. Human Rights Watch could not ascertain which intelligence branch was responsible for detentions in Ghouta.
Most of those detained were apparently never charged. In three cases, intelligence branches apparently arrested people because someone filed a complaint against them. In the majority of cases, people were held incommunicado either throughout or for part of their detention and denied access to a lawyer. The authorities did not inform their families of their whereabouts or take them promptly before a judge, as far as their relatives and colleagues could tell. In one case, a detainee told friends that military intelligence beat them before taking them to military court, even though they were arrested in a civil suit.
In at least one case, authorities transferred the person to Sadnaya prison, which is known for torture and extrajudicial executions. In three cases, relatives were detained and/or harassed by intelligence branch members to gain information about their wanted family member or to force that family member to return.
Relatives and friends of detained people said they were released only after their families paid a bribe and, in some of the cases, asked high level members of the reconciliation committees or Russian military police to intervene. One person interviewed said he got a relative released after reaching out to the Russian military police. Two others said they brokered the release of relatives through the Fifth Corps, an affiliated militia. In at least two other cases, relatives said they tried to reach the Russian military police or the local reconciliation committees but failed.
Interviewees said the Russian government's ability to help depended on the area where the person was arrested and whether the person asking was an important community leader or had connections. In two other cases, former residents said, protests in the town where the detained person lived led to their release.