England Obsessed To Reach 500 Before Anyone Else In World Cup: Virat Kohli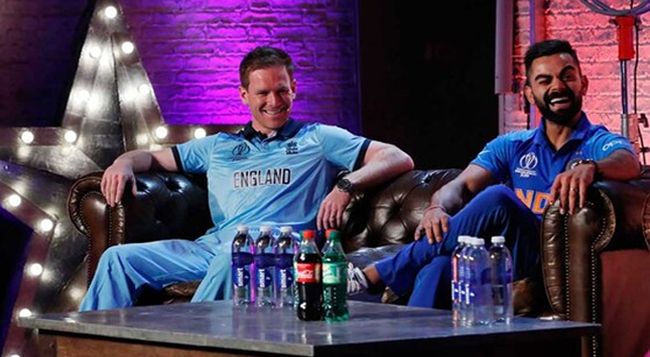 Virat Kohli, who will lead India for the first time in a 50-over ICC World Cup, didn't hesitate to call hosts England the "strongest" side, adding that they seem "obsessed with getting to 500 before anyone else". Currently, England hold the record of highest One-Day International (ODI) score -- 481 for six, which they scored against Australia last year. Watching the current form of England batsmen and playing conditions in England and Wales, the World Cup 2019 is expected to be a high-scoring one.
Recently, England outplayed Pakistan 4-0 in a high-scoring series. At the captains' media interaction ahead of the mega event, Kohli was asked if the 500-run mark could be breached in this edition.
"I was just going to say it really depends on these guys. They seem to be obsessed with getting to 500 before anyone else," said Kohli while pointing to his English counterpart Eoin Morgan, who sat next to him.
Kohli conceded that the tournament will see a run-fest but pressure of playing in a World Cup will make even 260-270 hard to chase.
"It is going to be a high scoring tournament but back home too I said 260-270 will also will be as tough to get in a World Cup as chasing 370-380. I don't see many high scoring games in the latter stages of the tournament, initially some teams might get on a roll but later on you will see 250 defended as well. That is the kind of pressure World Cup brings."
The Indian captain expects the teams to be more cautious as the tournament progresses.
"Not all the teams are going to be in a great position (in the latter half). The ones who have to make sure that they get the result are going to be under pressure to chase even a small total. The fact that you are going to be close to a knock out berth will get you under pressure in the latter stages and all teams recognise that.